Tenth Issue of Al-Nasser Journal Released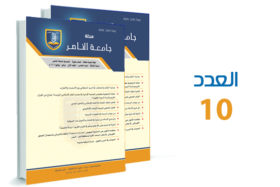 The tenth issue of Al-Nasser Journal has been published. This is a refereed scientific journal issued biannually by Al-Nasser University. The journal aims to publish the scholarly studies in both natural and social sciences.
The current issue was published in two volumes of 13 academic papers each. Vol 1 comprised the following topics:
Penalty against Proceeding to Reprehensive Crimes in Saudi Legal System
Denotations and Connotations of Some Qur'anic Terms: A Compiling & Analytic Study
The Economic Impact of Omdurman on its Northern Rural Areas—Sudan
Proposal for Teaching the Qur'anic Verses of Hermeneutics (the University Requirement Subject) in the Light of the Guidance Regulations Derived from Linguistics, Rhetoric, and Hermeneutic Fundamentals: El-Qawther Surah as a Paradigm
Psychotics' Passage to the Act of Murder: Psychological Approach and Criminal Liability
The Language Structure of El-ikhlas Surah: An Analytical Study Based on Modern Linguistics and Arabic Language Grammar
The Impact of Using Concept Maps on Secondary-First-Grade Students' Inclination toward Maths at Sana'a Schools
Contemporary Terrorism: Term and Concept Problematics
Problem of Gender Intermingling and its Treatment in the Light of Qur'an and Sunnah
Negative Commitment Solidarity: Debtors' Solidarity in Yemeni Civil Law, Comparable Laws, and Islamic Jurisprudence
Word Location: Standard Syntax and Coalescing Evidences
Role of Genetic Engineering in Procreation and the Criminal Liability of the Physician in Charge: A Comparative Study in Legislation, Jurisprudence, and Judicature
Defining the Branches and Scope of General International Law
Vol. 2 comprised 13 papers as follows:
Dialysis and its Effect on Ablution (Cleanliness)
The Consequences of Compelling a Person to Present a Written Deed: a Comparative Study of Yemeni, Egyptian, and Jordanian Laws
The Media and its Impact on Directing the Human Conduct: a Criminological Study
Expending Zakat on Incurable Diseases: a Sharia-rooted Study
Competency Impediments in Yemeni & Egyptian Civil Laws: a Comparative Study
The Authority of Penal Court in Mobilizing a Lawsuit in Defiance Cases as per Yemeni Law
Transformation of the Rural Lodgings at Shaker District Villages and the Local Development Prospects
Dissuasion against Straight Path in the Light of Holy Qur'an: a Hermeneutic Study
The Legality of Challenging the Judicial Sentence Settling the Disputes over Candidacy for Yemeni Parliament Membership: a Comparative Study
The Scholastic Relationships of Aden from 5th to 9th A H Centuries.
Self-Orientalization in Postmodern Non-Western Fiction: A Critical Assessment of the Representation of Female Characters in Orhan Pamuk's Snow
The comprehension of English Idioms and the Strategies used by Yemeni Learners of English in Translation
Portraying Sana'a as a Woman: A Critical Study of some of Abdulaziz Al –Maqalih's Poetry.
In a statement, Dr. Mohammed Shawqi, the Journal's Editor, highlighted the fact that the present issue was distinguished with the variety of topics published by national and Arabic researchers. In addition, all studies were approved by experienced reviewers. The journal represents a valuable addition to the scientific research.
Interested researchers can browse and download the current as well as the previous issues of the Journal by visiting its e-archive via the link:
http://www.al-edu.com/research-archives-ar
For further details and enquiries, contact the Editor:
Email: journal@al-edu.com
Landline: +967-1-536307