Scientific Visits by Al-Nasser Pharmacy Students
Thursday, 09 November 2017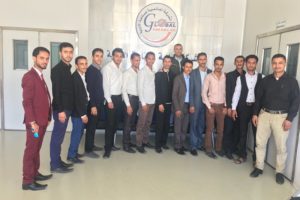 In implementation of the 2017/2018 training program, Pharmacy fifth-year students went on many scientific visits that were organized by Research & Training Office at Faculty of Medical Sciences. The field visits were made to Yemen-Egyptian, Sheba, Global, and El-Dwae'iah pharmaceutical companies.
During the visits, the students learnt about the different designs of the pharmaceutical companies and got acquainted with the specific systems of their various depts. including: R&D, Production, and Quality Control. They were introduced by the respective specialists to the mechanism of each department as well as the process by which the different medicines are produced and packaged for consumers.
According to Mr. Ahmed Mahoub (the Research & Training Officer), the scientific visit program has been carried out at FMS since the semester's first week so that students can get the maximum knowledge. He extended his thanks to Al-Nasser University's Board as well as the FMS' deanship in appreciation of their support to achieve such a goal.