Public Health Students Visit Clinical Nutrition Center
Thursday, 09 November 2017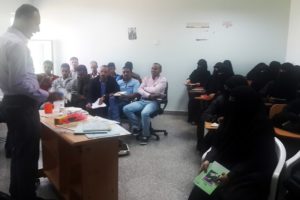 A scientific visit was made by 35 students coming from the 2nd, 3rd, and 4th levels of Public Health Department to the Clinical Nutrition Center of Sheikh Zayed Hospital at Bani-elharith area.
Touring the Hospital's various sections, the students were introduced to the Clinical Nutrition Center where malnutrition children receive treatment. They, besides, learnt how the admitted cases are assessed and had a look at the center's various records, foods, and reports.
According to Dr. Abdurraqeeb El-Hannani (Head of Public Health Dept.), nutrition is a basic discipline of Public Health by which students learn how to deal with malnutrition cases through the study of such courses as: Public Nutrition, Community Nutrition, and Clinical Nutrition.
Both senior students, Miss Shayma El-Srabi and Miss Buthaynah Hameed, expressed their sense of satisfaction with the knowledge they derived from visiting the Center's external and internal sections. They learnt how to receive cases, take measurements, identify the infected children, deal with inpatients and outpatients, and the daily checkups and follow-ups to take thereafter.
According to the senior student, Islam El-Amoudi, the visitors were introduced by brilliant nutrition specialists to many important facts which are complementary to the theoretical classes they studied.